Today, most weddings are planned around a chosen color scheme. Choosing between colors has been a popular trend for quite some time now. Since there is nothing new other than perhaps find a brand new winning color combination, more and more brides are turning to patterns and print to add a unique touch to their weddings. Patterns and prints bring an extra element of style and sophistication, and this is a surefire way of making an impact, without going to too much trouble.
The best thing about incorporating prints and patterns into your wedding décor is that you have so many options to choose from. Whether you want a classic, elegant wedding theme or a quirky, contemporary style you have plenty of designs to fashion it on. The fun doesn't end here. By varying the size, dimensions and frequency with which you use prints or patterns in your décor, you can achieve entirely different effects.
Some of the benefits of including prints and patterns into your wedding scheme are:
It is one of the easiest ways to add more texture and interesting colors to your décor
Certain prints are standard representations of themes, and this is an easy way to create the vibe you desire, for your wedding. For example, spring flowers scream garden celebrations, and using this print in your décor can instantly set the right ambiance at your venue
It is easier to mix and match colors around a pattern or print, than when using a single color, which will involve more detailed matching of elements
With pattern and print, a little goes a long way. You can make a powerful statement by using prints and patterns in moderation
Prints allow you to keep your base color simple, while adding accents in a fun way to your wedding theme
There are hundreds of options in prints and patterns to choose from, and it is pretty exciting to explore the options. Depending on the style of wedding you have, you can consider the following options.
Traditional prints
Basket weaves: Soft and elegant, basket weaves are a perfect pattern to add subtle texture to your wedding décor elements. You can use this print in table linen, in the rugs and even in the cake for a dramatic and elegant finish.
Art deco: Bring neat and stylish Gatsby inspired motifs to your wedding as the patterns that will be highlighted in your décor. Crisp, clean and easy to incorporate, you can try the same print in different colors, or stick to just one print and color combination throughout.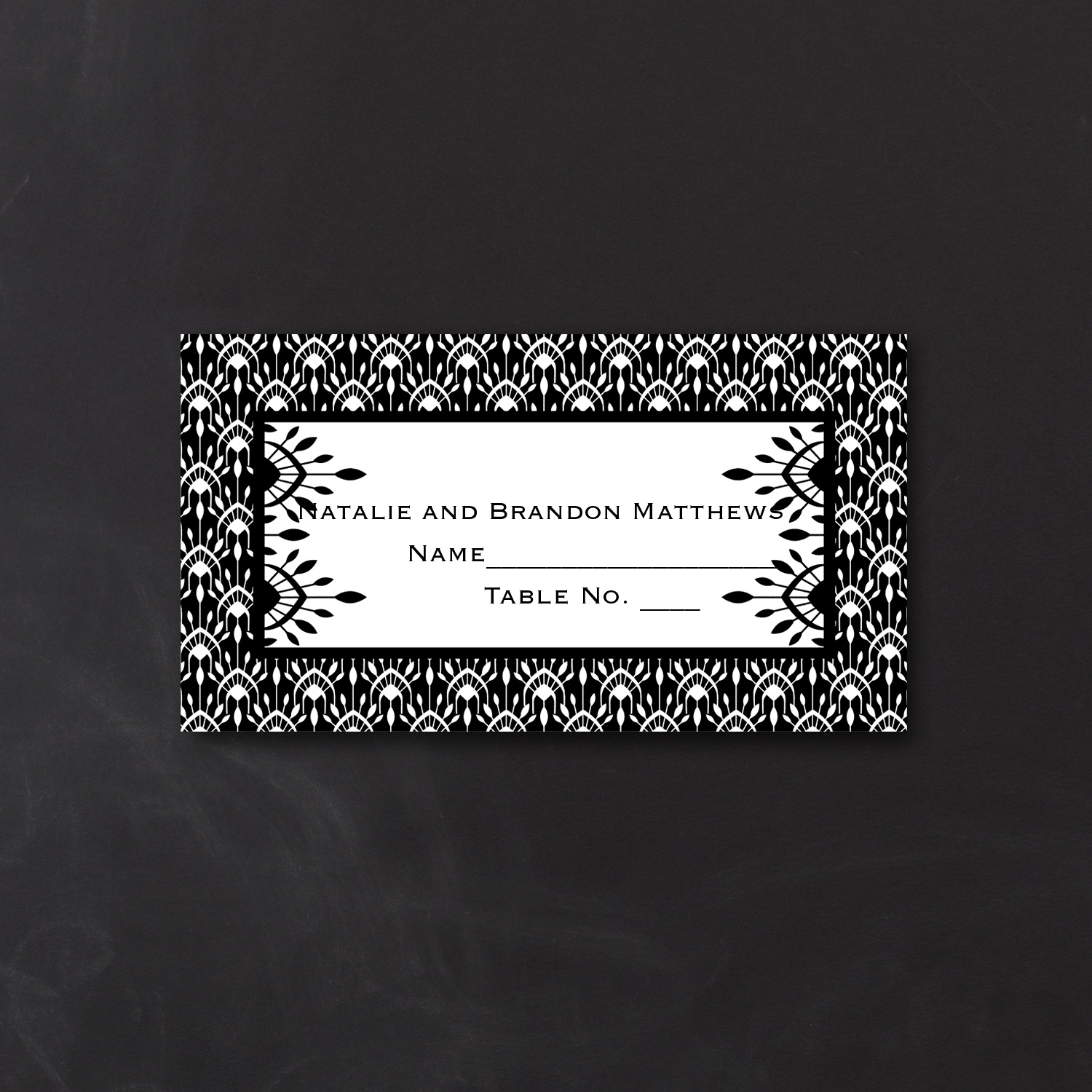 This place card from our Best for Bride stationery suite features black and white art deco prints that make the wedding scenery more interesting in an instant
This popular Arabic weaving pattern is a beautiful traditional icon that is both elegant and sophisticated. It is a perfect choice for your wedding invitations and stationery. Use it in lavish doses throughout your décor for a regal vibe.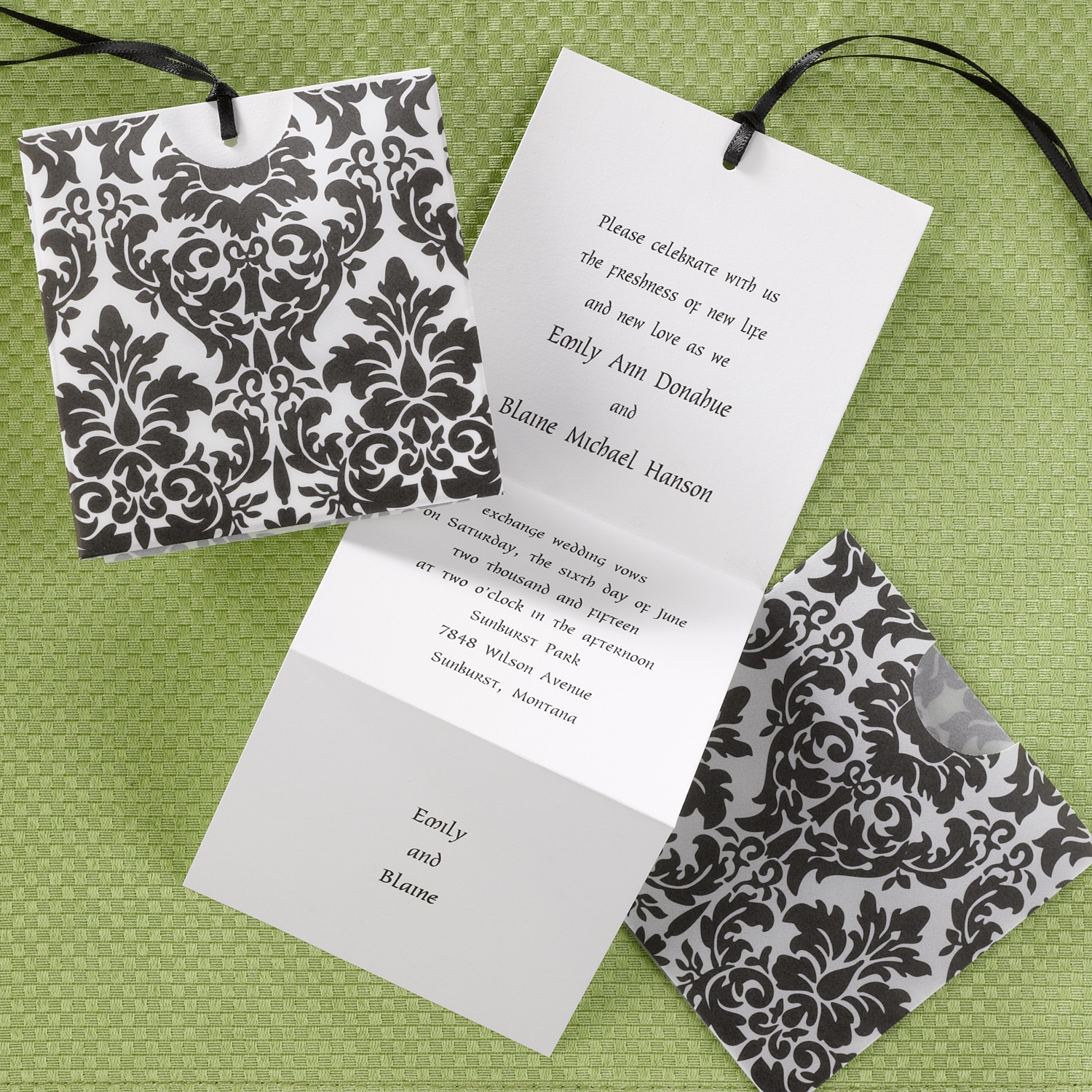 This black and white Damask pocket invitation is from our invitation collection at Best for Bride.
An eternal vintage favorite, lace can jazz up the scene with pretty floral details in your table décor, bouquets, centerpieces and even wedding cake design in an instant. For brides who want a modern update to traditional lace designs, consider laser-cut lace details that are crisp with super-fine details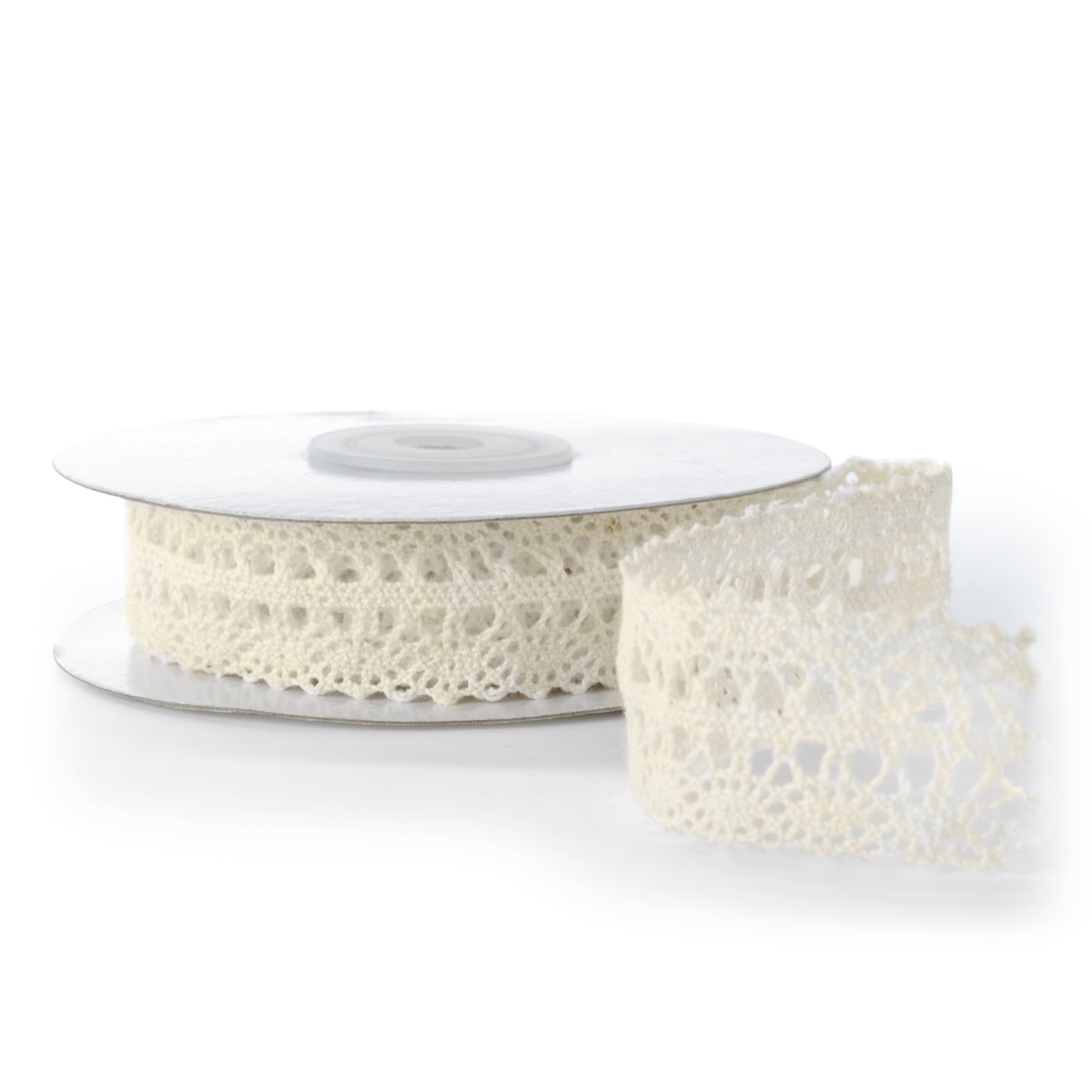 Rolls of crochet lace can be used to tie together wedding favors, embellish envelopes and even to secure silverware to the table napkins.
Add a punch of color to your wedding scene with ikat handloom prints that are an all-time favorite with the Boho bride. Perfect for a colorful wedding, and there is an endless variety of prints to choose from.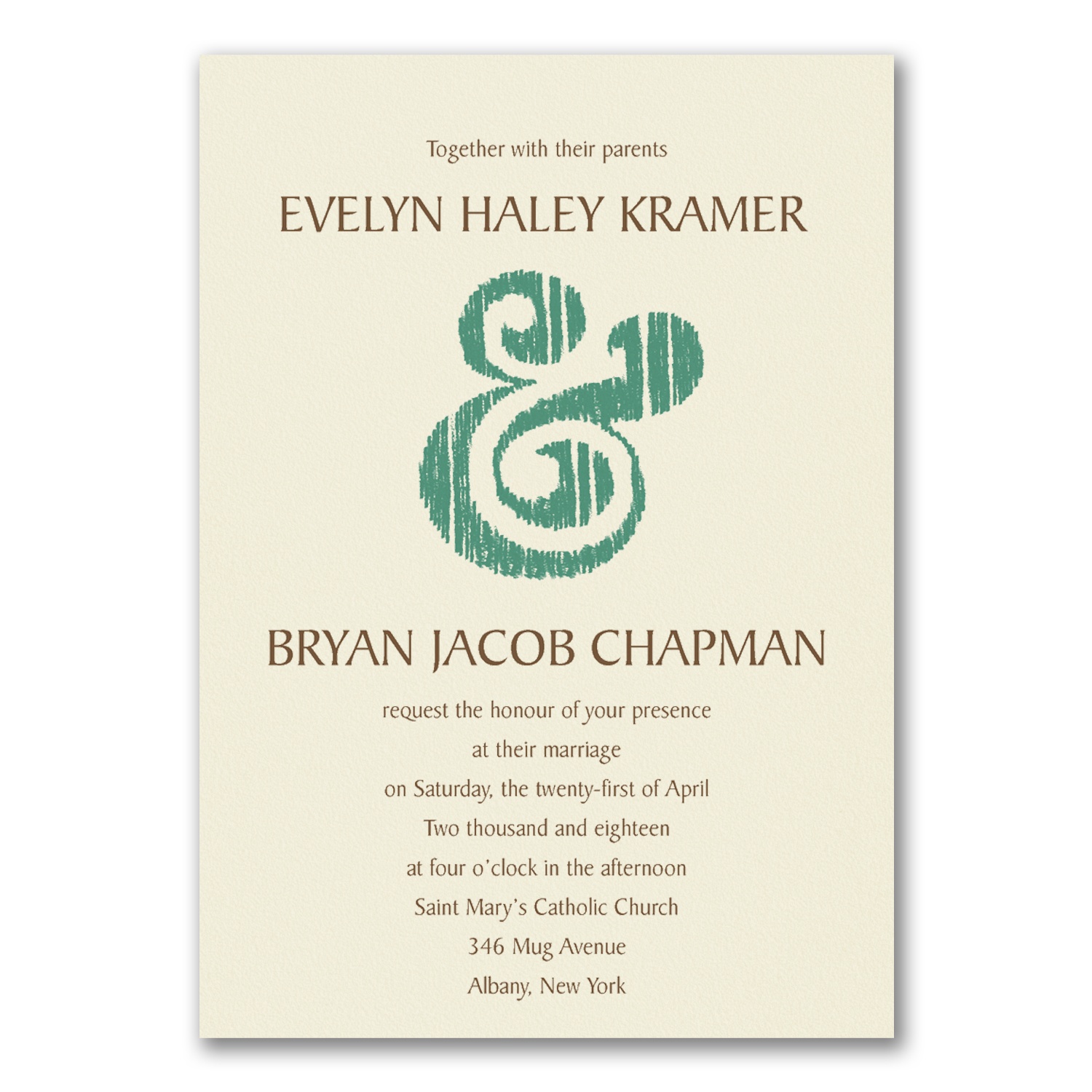 This invitation from the Best for Bride collection can be ordered here.
Modern patterns
The new favorite in interior designing, the Greek key print is a perfect choice for the bride who wants a subtle pattern with symmetry, that makes it balanced and interesting. Start off with an envelope seal to your chosen wedding invitation format, and build the rest of the scene at your wedding around this pattern.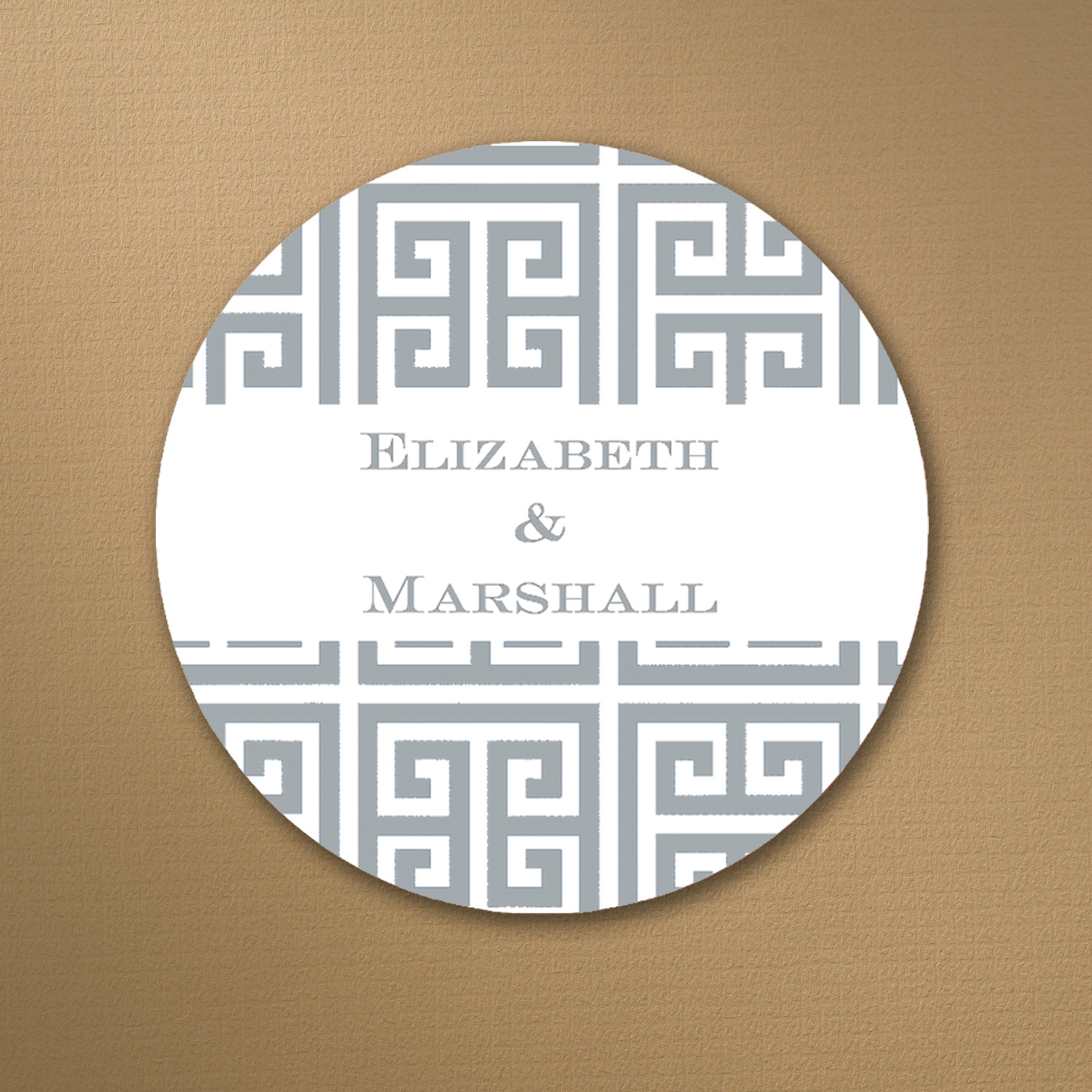 This envelope seal is available here at Best for Bride.
Jazz up your modern wedding with prints from the animal world, including zebra prints, leopard prints, tiger stripes or giraffe prints for a chic vibe. It is exciting and interesting, and totally cool! Step away from the original colors and pep it up with bright, unusual colors for an even more interesting touch.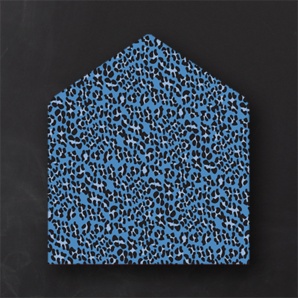 This envelope liner can be used with your invitations to give your guests a sneak peek at the theme of your wedding. Available here at Best for Bride.
The go-to pattern for modern and stylish celebrations. The straight edges and neat corners of modern geometric prints will find favor with the bride who is organized and loves to go with neat, but pretty trends.
Universal prints that work for both contemporary and traditional brides
A versatile print that can easily be modern or classic depending on how it is used, and the colors chosen in it. Chevron in gold and white is classic, while the colored versions are playful and fun. Use it everywhere, from your table linen, to the backdrop and even add it to the edible favors, brides shoes or bridesmaids dresses.
Big or small, check prints are a must-have for garden weddings and outdoor ceremonies. Do it big, in ample doses everywhere from the favor bags to table cloth, or keep it in moderation by adding it to the bunting and napkins. Color combinations like red and white are fun, while black and white or tartan prints are classic.
One of our favorite all-time prints, polka dots are a happy pattern that can bring a soft contrast and step up the fun element at any venue. They can be either whimsical and fun, or stylish and classic, depending on how the colors are mixed to create the combination.
Another classic design that can be used in both modern and classic weddings with ease, stripes are the perfect pattern choice to either dress up or dress down your wedding theme and create the vibe you want. There are infinite options to consider, and there is no scope for mistakes.
Flowers and weddings are a match made in heaven, and you can make the most of this bounty of nature by adding it in lavish doses to your wedding theme. Apart from incorporating it into the décor and stationery, we think you should also consider dressing up your pretty bridesmaids in flower print dresses. Your bridesmaids will go crazy over this printed dress from the Alfred Sung bridesmaids collection. Check it out here.
Now that we've had a detailed look at a handful of beautiful prints that would be great for your wedding day, let us discuss a few important things that you should keep in mind when using prints and patterns.
Follow these tips and you are sure to do it right.
1.Have a color scheme in mind: When doing patterns and print, it is easy to go overboard. If you do, you will end up with a cluttered scheme and the entire effect will be spoiled. To avoid this, pick a scheme with a maximum of four colors to mix and match. Consider how practical it is to work with these colors, and where you can add each combination. Sketch the imagery in your mind, and collect inspiration from available sources on your wedding inspiration board. Try out different combinations, till you find the right one that appeals most to you. Then proceed with the plan.
2.Do patterns and prints in the right doses: Getting the most of patterns and prints is possible, only when you do the combinations in moderation. Prints can freshen up the scenery when they are mixed with a solid base color, that offsets the busy look. Collect swatches in various combinations and set it up against plain solid colors, till you find the right mix that you can use in different places through the décor.
3.Start with the stationery: We said earlier that your invitation is the right place to offer your guests a sneak peek into the prints you will employ at your wedding. So, make sure you choose an invitation, envelope seal or envelope liner that will feature the chosen theme element. Apart from that you can further dress up your wedding venue with place cards, coasters, menus and programs centered around the theme. This is one of the most cost-effective and efficient ways to add patterns and prints into your décor.
4.Place it where it will be noticed: Some clever planning is necessary for this part. To make a statement with prints and patterns, you should not just float it around in the background. You should place it where it will be most noticeable. Place it against items that are simple and plain, so the prints stand out against them. For example, display the patterns as cupcake tiers in the candy buffet, or add it as ribbons on a plain favor bag. Most prints, including stripes, polka dots and chevron, can be incorporated into wedding cakes. Do this in the right dose, and it will be a statement look that everyone will appreciate.
5.Use it in unexpected ways: This is one of the quickest ways to make sure the theme comes alive. Do a little brainstorming to add your central theme into places where your guests will least expect to see it, and it will not go unnoticed. Some places to add the little element of surprise are in your centerpieces, by adding it to the vases in which the flowers will be displayed. You can also use it in lavish doses in the program and menu cards, as it will not escape being noticed when your guests read through them.
6.Wear it well: If you have your mind set on a white wedding dress, don't compromise on that to incorporate pattern. Instead think of other ways in which you can cleverly add prints to your look. Accessories like shoes, sashes and bouquets can be dressed up with the pattern you choose, thus integrating your look with the theme you have chosen. Something as simple as tying a fabric with the chosen print around your bouquet, is all it takes to update your look and match it to the theme. For your groom, consider a patterned tie or printed shirt in the chosen theme. Similarly you can have your bridesmaids in dresses that feature the chosen pattern or gift them accessories that sport the print.
With these tips in mind, you are all set to add the right prints and patterns to your wedding. The best thing about using this idea is that even a little goes a long way. You do not need elaborate plans or go through yards of fabric swatches to find the one combination that will make your wedding truly unique. Having a theme that works, couldn't get easier than this, and it is the perfect way to make the right statement.
Our invitation suite has wedding stationery in almost every print, pattern and color you can possibly imagine. Finding your dream color and print combination couldn't get any easier than this. Similarly, you will find an endless gallery of options in wedding favors, reception décor, table and aisle decorations and more in our wedding favors shop. So, don't forget to check out the different options you can consider, for your chosen theme and colors. Bring your wedding vision to life through the different wedding services we offer at Best for Bride. Visit our home page today, to find everything you need.