Valentine's Day, the official day when love and lovers are celebrated worldwide, is almost here. Could there be a more romantic day for a couple in love to be married on?
This article on History.com discusses the many legends about St. Valentine. One of them suggests that this day is celebrated in memory of a saint who defied Emperor Claudius' rules that outlawed marriage of young soldiers. He took it upon himself to conduct the weddings of young lovers in secret, thus defying the law. So, you do understand that there is a tale that associates this day with weddings. Nonetheless, it is undeniable that this is one of the most romantic days ever, and you do not need a reason whatsoever, to get married on this special day.
If you are indeed planning, or even considering getting married on Valentine's day, here are some ideas to perfect your special day. So, here we go.
Colors for your theme
What is the first thing that comes to mind when you think of Valentine's day? Is it a red heart? Or perhaps it is red roses! Whether it is either or these, or anything else, there is a red hue associated with it, isn't it?
Valentine's day has and will forever be linked to the color red. So, we wouldn't be too surprised to see red ruling your wedding color palette too. However, you can always change the style of things to bring your own unique element into your wedding day. I liked this idea on the Knot, that suggests you go with another color palette like black and white, and incorporate the red in subtlety. You can do this by simply using red as your accent color, and adding it in moderate quantities throughout your décor. You could perhaps accessorize your bridesmaids with red bouquets or waistbands with a different color for their dresses. Or, you could use red ribbons to bring your flower arrangements together. Either way, the idea is to not overpower with red and make it obvious, but to use it in moderation so the impact is subtle but still there.
Wedding invitations
Your guests will expect your wedding day to have motifs and symbols of love, when you announce your wedding on Valentine's day. So, don't try too hard to step away entirely from this idea, or it may seem disappointing to at least a few of them who are excited about the romantic aspect of getting married on this special day. Set the stage for a grand celebration with a wedding invitation that is romantic, but doesn't go overboard with Valentine's day details.
We have two stunning wedding invitations to suggest. Both these suggestions are entirely different from each other, but are equally perfect for the theme. Take a look.
The first card brings together the two essential symbols of this day—hearts and roses, in an enchanting design. The tri-fold invitation features the bride and groom's names on the top, within an open heart with a rose slipping through. It seals the deal without too much red. Find more details about this card at this link.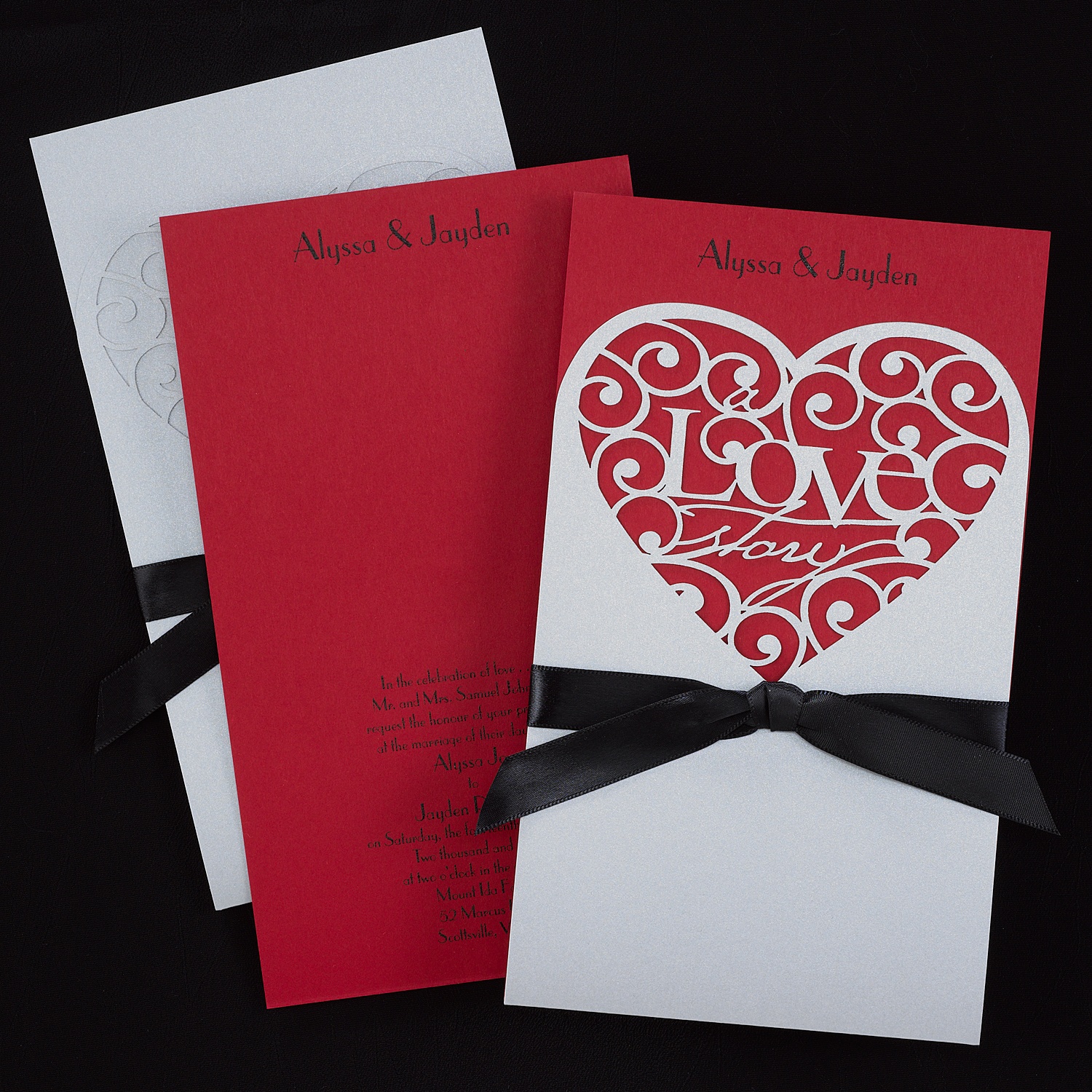 Our second card is an extravagant expression of red, with white being the accent color that highlights the deep red heart symbol and makes it so special. A pocket invitation with beautiful cut-out details, it is a work of art in every way, with a satin ribbon in your preferred color adding a touch of luxury. Don't you think it is beautiful? Find out more about ordering this card for your special celebration by visiting our website here.
Wedding Cake and Flavors
Did we hear someone whisper "Red Velvet?" The traditional Valentine choice, we think your guests will also expect the same. So, how about surprising them with an ombre cake that will also be a spectacle in pink and red, instead of a simple red design all over. You can also consider cakes decorated with rose petals for a romantic and definitely attractive effect. Now, if you aren't a total fan of red, consider keeping the cake nice and pretty with pink instead and having a surprising flavor like strawberry that is appropriate, but unexpected.
We think it is a brilliant idea to keep the colors subtle, but focus on the shape instead. A heart shaped cake is a romantic icon like no other, and this is what we would love to see at a Valentine day wedding.
Take a look at this tiered beauty from our Natalya cake collection, which is simply elegant in its simplicity. A simple mixing of pink and white are used to create a classic cake that everyone is bound to love. To see this cake, and more designs from our cake vendors, visit this link on Best for Bride.
Bouquets and Flowers in the decor
Red roses are synonymous with Valentine's day, and using them will add unparalleled charm to your wedding day décor. Make it a part of your wedding bouquet, and use roses and petals in the décor to create a romantic ambiance that everyone is bound to associate with the special day. Now, if you are to be married in a stark white wedding dress, your red rose bouquet will simply pop against the brilliant white, making you a mesmerizing beauty.
Now if you aren't such a great fan of bright red, you can choose maroon, merlot or even pink flowers for your bouquet and décor. You could even mix up the deep dark red flowers with white or pink for a textured look. Here is a sample bouquet from our florist. Don't you think it is great for a Valentine wedding.
Other flowers that are equally striking in their red hues are tulips and carnations. So, if you don't want roses, these are the other options you can consider.
Wedding dress in red
You don't have to think twice about wearing red lipstick on your wedding day. But, if you want to really max up on Valentine's day in every way, how about choosing a wedding gown that is bright red and superbly stunning? Here is a wedding dress from our Alfred Angelo collection that is just perfect for the Valentine's day look. A fairy tale ball gown in brilliant red, the sweetheart neckline and flower detail at the waist make it stunning and elegant.
Now, if you would rather prefer to go with our initial suggestion of working with a neutral palette with just the right hints of red as accents, we have the right gown for this too.
This beauty from the Alfred Angelo collection, is a unique statement gown with just a hint of red in the neckline in the front of the gown. The actual magic lies in the back, where the corset back leads to a wide band of red all the way down to the semi-cathedral train of the gown. The pretty detailing on the borders of the dress are what make it truly spectacular. Your guests will certainly make note of this unusually attractive design, as you stand with your back facing them during the wedding ceremony.
Bridesmaids in red
If there is one way a bride can make sure her bridesmaids will be happy, it is by choosing a dress that they can wear again. When you opt for a red bridesmaid dress, the chances of this happening are rather high. With another Valentine's day to arrive in the very next year, they will definitely consider hauling this dress out of their closet for it, if not before this on another occasion.
If you visit our bridesmaid collections at Best for Bride, you can find any number of red bridesmaids dresses. This one-strap bridesmaid dress from the Mori Lee collection is a definite winner, since it is both flirty and fun.
The ruffle details on the side, as well as the neckline make it a dress that anyone is bound to love. We are sure that your bridesmaids will eagerly await your wedding day, when they can dress up like a Valentine in this beauty. Check out this dress as well as the other options we have in bridesmaids dresses from this collection here.
Wedding favors
There are plenty of options in wedding favors for a Valentines day wedding. You will not need red to make your chosen favor perfect for this day. Nevertheless, it doesn't harm ifyou do so either. This article on the Candystore blog page suggests jam jar favors where red preserves and jams are arranged in transparent jars and covered with pretty cloth and bow tie decorations that feature hearts.
Now if you don't want to make it all about the red, an option you may like is the Fused in Love double heart wine stopper from our wedding favors collection.
In a delightful twist to the traditional heart motif, this wedding favor features two hearts fused into one in a stunning silver finish crafted out of aluminum and alloy. It is a stylish and functional gift which your guests will enjoy using, and it will constantly remind them of the Valentines day they celebrated your wedding on. .
Another favor you may like to take a look at, especially if you have your heart set on a casual wedding style are these "Bet on Love", heart shaped playing cards that are also very interesting.
Find out more about ordering them by visiting this link to our Best for Bride wedding favors page.
Red shoes for the bold bride
Here is an idea for the bold bride, who wants an air of mystery around her. Consider switching your traditional white wedding shoes for ones in red. Since it will be hidden under your wedding dress for greater part of the day, it will be that secret something that only you may know about. But once you are on the dance floor and twirling around to the notes of the music, we are sure your guests will quickly notice the bright red that occasionally peeps out when your dress slightly moves. Don't you think it will be pretty exciting? Or the other idea is to simply use shoes with red soles or a red sticker on the sole for an equally intriguing and mysterious effect.
Wedding décor with rose petals
Here is a brilliant and equally romantic idea we spotted on the All women's talk blog page  They suggest decorating the ceremony aisle with a rich bounty of rose petals. How romantic is the idea of marking the path towards your wedding altar with red petals that are the very symbol of love itself. When freshly strewn on a white aisle runner, we are sure they will create a spectacular effect and also that your wedding photos taken at this time will pop from the lavish dose of color.We think this is definitely one of our favorites, and an idea you should try for your big day.
Now, listen to this idea for your reception table decor—we think you should decorate the tables with beautiful centerpieces that have lovely scented candles resting among a scattering of rose petals. Choose dim lighting for your venue, and your guests will enjoy their own candle light dinner, and love the romantic ambiance that you conjure up with this arrangement.
We hope we've shared some practical and feasible ideas for your Valentine wedding. You can use these ideas even if you aren't having a Valentine wedding, but are planning one on similar lines, any time of the year.
Visit us at Best for Bride for more inspiration on planning your dream wedding. Whether you want a red wedding dress or a white one, and for every one of your other wedding day needs, we have the solution you need. Check out the different services we offer by visiting the Best for Bride website, and get in touch with us for any assistance you may require.